Burglary protection RC2/RC3
The highly resistant air-lux basic construction can be upgraded with additional mechanical components and a special glass up to the tested resistance class RC3. All safety measures remain invisible and change neither the profile nor the glass surface. Bullet-proof safety glass and alarm glass can also be used up to an element thickness of 60 mm.
Below is a list of the tools that may be used for RC2/RC3 requirements (black). As soon as one of these tools is used, time is stopped. In the case of RC2, the burglar has three minutes to get inside the room and in the case of RC3, five minutes.
Safety level RC2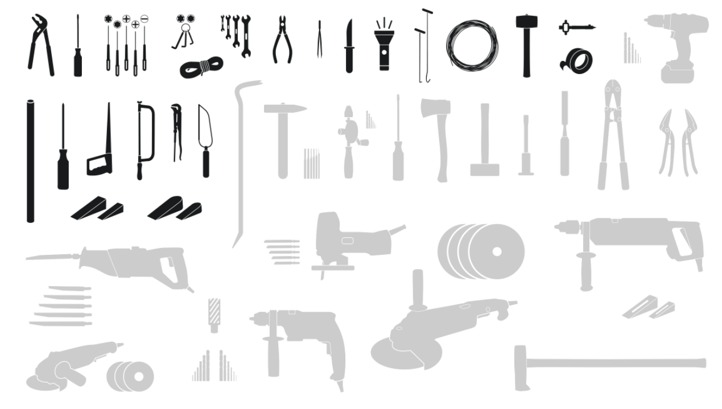 Safety level RC3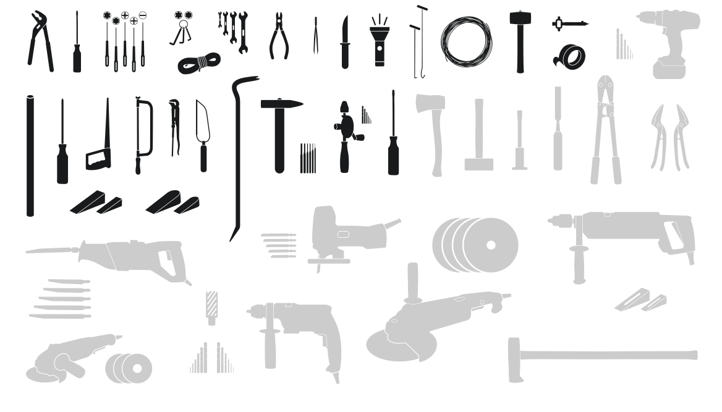 Glass requirement: P4 A in accordance with DIN EN 356
Risk level: low
Perpetrator group: Occasional offender
Static load per locking mechanism: 300 kg | 0.3 t
Dynamic load: 3×50 kg from 450 mm
Tool contact time: 3 minutes
Total test time with tool contact: 15 minutes
Glass requirement: P5 A in accordance with DIN EN 356
Risk level: medium
Perpetrator group: deliberate habitual offenders
Static load per locking mechanism: 600 kg | 0.6 t
Dynamic load: 3×50 kg from 750 mm
Tool contact time: 5 minutes
Total test time with tool contact: 20 minutes