There are no 'standard' colours at air-lux. Each order is created according to the customer's specifications and individually powder-coated upon receipt of the material. You can choose your favourite colour from over 2,000 NCS or RAL shades (Qualicoat class 1) without incurring any additional costs. If you prefer to preserve the natural, metallic character of aluminium, anodising the surface is the right choice for you. Here, too, there is a wide selection of colours, and the surface texture can also be changed.
Powder coating
For quality reasons, all profiles and accessories at air-lux are always coated using the powder coating process. This powder coating is applied to the substrate using an electrostatic charge and then melted and cured in a furnace.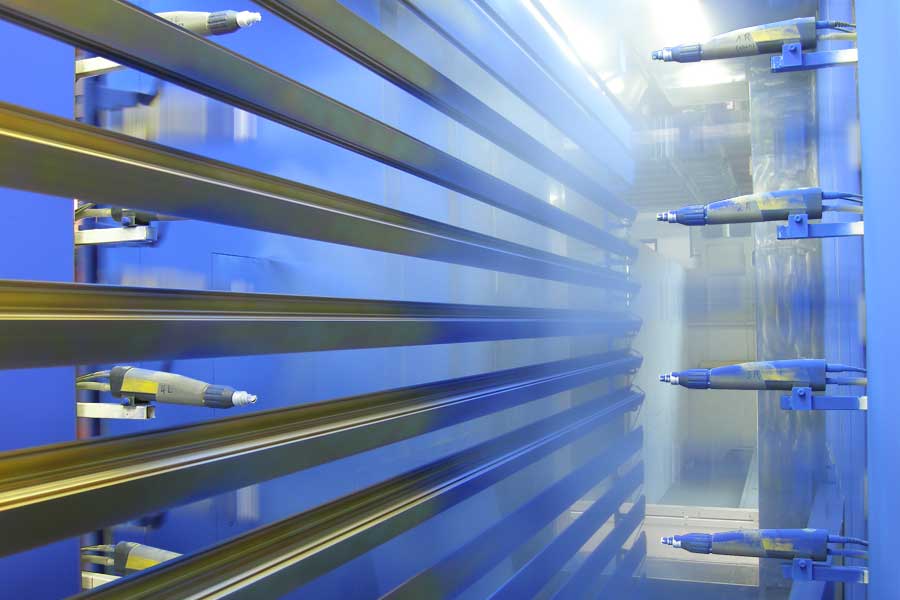 Benefits of powder coating
Solvent-free
Protection and decoration
Durable surface
Almost 100% material utilisation rate
Best results in one layer
High mechanical resilience
Easy and clean to work with
Can be used on a wide range of substrates
Quality
There are different quality classes for the coating of components, which differ based on the quality of the powder and the quality of the coating itself.
Qualicoat class
Powder
Warranty
Certification
Class 1
(standard)
Durable polyester
Approx. five years, depending on weather conditions
AAMA 2603 GSB Florida 1
Class 2
(master)
Super-durable polyester
approx. 10 years, depending on weather conditions
AAMA 2604 GSB Florida 3
Class 3
(premium)
Fluoropolymers PVDF/PFC
10–20 years, depending on weather conditions
AAMA 2605
Anodisation
The anodisation of aluminium – also known as anodic oxidation or anodising – is a tried and tested process for the surface finishing of aluminium.
The aluminium surface is converted into aluminium oxide in an electrochemical process. This oxide layer is hard as ceramic, transparent and, unlike other finishing processes, firmly bonded to the base material. The layer thickness can be selected depending on the intended use of the workpiece. Anodisation is applied when the preservation of the precious metallic character of aluminium is desired.
Benefits of anodisation
Metallic effect is retained
UV resistance
Scratch-resistant
Weatherproof
Long shelf life
Corrosion resistance
Surface structure
Aluminium surfaces require a suitable pre-treatment for the anodising process. Mechanical pre-treatments such as grinding and brushing (E4) emphasise the metallic character of the aluminium with a high-quality grinding structure. The purely chemical pre-treatment, on the other hand, removes dirt, corrosion and slight traces of processing. After the so-called 'pickling' process (E6), the surface appears uniformly matte. The pre-treatments are independent of the surface finishing and can be applied to all anodisation processes.