air-lux honoured with AIT Innovation Award at BAU Munich
We received special recognition in the AIT innovation competition for our ground-breaking picture frame sliding casement doors.
In collaboration with the BAU trade fair, the architectural journals AIT and XIA presented the Innovation Award in architecture and construction for the 13th year running. The competition highlights designers and manufacturers of innovative products in the field of construction which meet the interests and demands of architects at a particularly high level.
Sixty-nine companies with 82 products registered for the competition. Of these, 17 products received an award. These included four special distinctions, one of which was awarded to our picture frame sliding casement doors.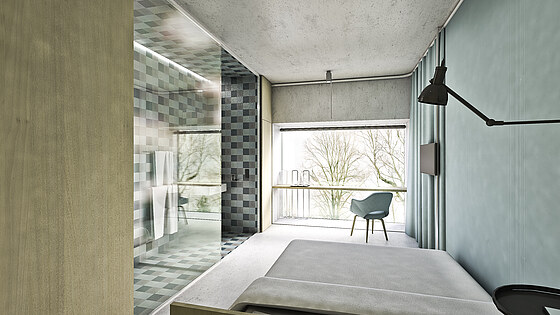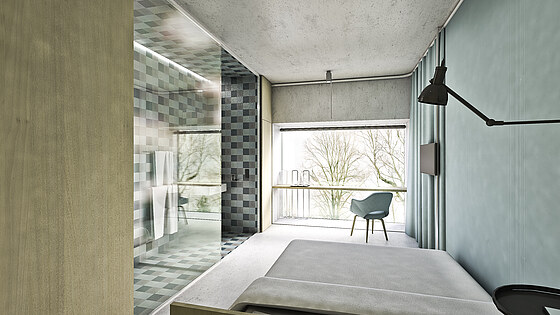 Freedom of design and individual application options
We developed the picture frame windows for a 12-storey high-rise at 34-36 Buckhauserstrasse in Zurich. The floor-to-ceiling window elements can be slid horizontally and are mounted on the exposed concrete façade like picture frames. The sliding windows run outside of the building, resulting in a bay window-type extension. This lends a completely new sense of space to offices, apartments and hotels and also enables lateral views.
The sliding windows move completely silently and without any visible guide rails. The interior frame structure is concealed by a soffit that runs around it and is accessible from the inside. Safety measures include an integrated railing mounted on the interior. Air-lux's patented inflatable seal ensures a 100% airtight joint between the frames and the window pane. This guarantees complete impermeability – even in high rises.
A joint development by Piet Eckert and air-lux
With these windows, architect Piet Eckert wanted to create a repetitive pattern that would change organically when the windows were opened – a challenge that air-lux was delighted to accept. Thanks to the patented pneumatic seal, we offer industry-leading values in terms of impermeability to noise, driving rain and wind.
The jury's decision
'A system for a façade with moving elements and a concealed mechanism, no larger than 6x3m, is presented in an architecturally sophisticated way. The surrounding air-filled seal is particularly innovative and highly effective, and also guarantees a high level of sound insulation.'
Downloads
Certificate AIT Innovation Award 2017: Special recognition
Freedom of Design and individual application possibilities